February 21, 2011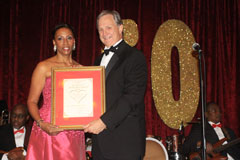 Nassau,
Bahamas - Lady Camille Barnett wins the Golden Heart Award at The
Annual Heart Ball Under the theme "Saving little hearts for 50 years,
one beat at a time", The Heart Ball Committee and patrons of the
Annual Heart Ball the 50th anniversary of The Heart Foundation, while
raising funds to repair children's hearts.

One of the highlights
of the evening was the presentation of The Lady Sassoon Golden Heart
Award. This year's awardee is Lady Camille Barnett. Lady Barnett is an
Associate professor at The College of The Bahamas, in the School of
Social Sciences. In 1989 she became a member of the Zonta Club of
Nassau. It was through Zonta that she began her work of public charity.
As a Zontian she helped established the Golden Z Club at the College of
The Bahamas...
News date : 02/21/2011