February 07, 2011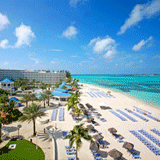 Nassau, The Bahamas - The
Sheraton Nassau Beach Resort, located in Nassau, The Bahamas, has announced the
appointments of Arlene Rodgers, Christerlina Francis and Tekeyo T. Bodie as
Catering & Convention Managers, and Danielle Armbrister as Sales &
Marketing Assistant. Lynne Johnson, formerly Director of Banquet Sales, has
been promoted to Director of Catering & Convention Services. Based in Nassau, the resort's
sales group is an integral team, responsible for prospecting and maintaining
clients, as well as planning and executing events.



"We are excited to welcome four
new additions to our sales team at the Sheraton Nassau Beach Resort, as well as
congratulate Lynne Johnson on this well-deserved promotion," said Andrew
Neubauer,..
News date : 02/07/2011