December 11, 2010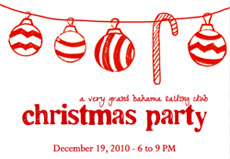 Freeport, Bahamas -
The Grand Bahama Sailing Club invite you to their family Christmas party
on Sunday, December 19th at the Club.

It will be an Open House and Pot Luck Dinner. Please

bring a plate of food or desserts from back home so everyone can enjoy a taste of Christmas around the world.

Free admission, with our next installment of Celebrity Bartenders!
News date : 12/11/2010