October 14, 2010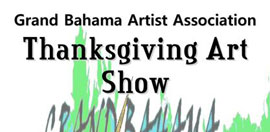 Freeport, Bahamas - The Grand Bahama Artists Association is gearing up to hold their

Thanksgiving Art Exhibition on Thursday,

November 4, 2010 from 7 to 9 pm at the Rand Nature Center's Glory Banks Art Gallery.

Art Exhibition continues until Saturday November 27th.

More information at 353 4333.