June 07, 2012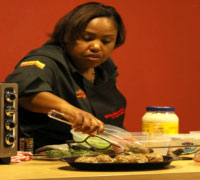 Nassau, Bahamas - Customers flocked to Master Technicians recently for the first of many live culinary showcases using kitchen appliances available in the Village Road store in everyday recipes for an opportunity to experience the tools.
Local and international chefs put KitchenAid's countertop equipment to good use during the event, with tools like the Hand Blender and the 5 Artisan Blender used to make cool smoothies and dips, the 5 Quart Artisan Series Stand Mixer used to make a cake, the 12-inch Convection Countertop Over used to make tasty Monterey meat ball and the 13-cup Food Processor used in a colorful seven layer salad.
They were all treats that customers were allowed to sample at the end of the show...