May 06, 2012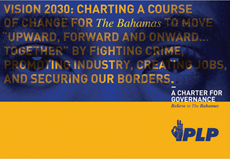 Nassau, Bahamas - The Progressive Liberal Party (PLP) have just released their

PLP Charter for Governance.

The foreword is a statement by the Rt. Hon. Perry G. Christie, Party Leader which reads:

In
these General Elections, the Progressive Liberal Party has put forth an
extraordinary team of candidates. A new generation of leaders and a
seasoned team of expert lawmakers have joined with the leadership of the
PLP to produce this Charter for Governance. This Charter for
Governance will allow the Progressive Liberal Party to chart a course of
change for The Bahamas beginning on...