April 18, 2012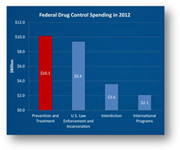 April 17th, 2012 the White House Director of National Drug Control Policy, Gil Kerlikowske, released the 2012 National Drug Control Strategy , the Obama Administration's primary blueprint for drug policy in the United States.
The new Strategy is guided by three facts: addiction is a disease that can be treated; people with substance use disorders can recover; and innovative new criminal justice reforms can stop the revolving door of drug use, crime, incarceration, and rearrest.
"Outdated policies like the mass incarceration of nonviolent drug offenders are relics of the past that ignore the need for a balanced public health and safety approach to our drug problem," said Kerlikowske. "The policy alternatives contained..."