January 10, 2012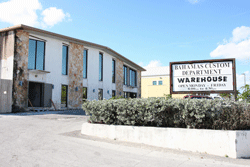 Nassau,
The Bahamas - Extensive repairs to the Customs Warehouse Building
on John F. Kennedy Drive are underway. The Bahamas Government signed
a $557,942.60 contract with Pro Construction to reconfigure and carry
out general repairs to the building.

Public
Works and Transport Minister the Hon Neko C Grant said the building
is in a "serious state of despair and in urgent need of rehabilitation".

Among
those present at the signing ceremony on Monday, January 9 were Colin
Higgs, permanent secretary, John Canton, director and Livingstone...