November 10, 2011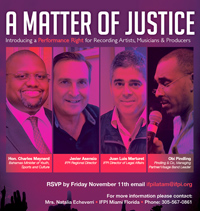 Nassau, Bahamas -

ArtOvation with TaDa is a weekly one-hour radio show
covering Issues, interviews and introspection related to the developing
and emerging arts and entertainment industries of the Bahamas.



This

Saturday, November 12th at 8am tune in to ArtOvation live on Star 106.5 FM



A Matter of Justice: Performance Rights for Artists, Musicians and
Producers. The music industry has suffered its most dramatic and volatile
changes during the past decade, similar to the time when tape recorders
were invented and commercial radio came to life. Today, digital
technology and the Internet have become...
News date : 11/10/2011