July 30, 2010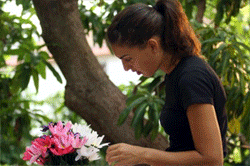 Nassau, Bahamas -

"The Kindly Ones" is written, produced and director by Bahamian filmmaker, Rupert
Missick of The Imagination Workshop. This is Missick's first film.

"The Kindly Ones" covers such themes as Greek mythology, Freudian theory and feminism and was inspired by the play 'The Eumenides', the third part of Aeschylus'
trilogy of ancient Greek tragedies known as 'The Oresteia'.

The short
film is expected to premiere later this year and stars three Bahamian women, Moira, Nora and Deci, played by Erin
Gay, Tara Woodside and Juanita Kelly.