June 08, 2011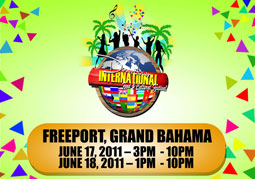 Freeport, The Bahamas - Come out and enjoy the

Downtown International Food & Cultural Festival on

June 17th and 18th!

Under the theme, "We Are Culture."

Taste indigenous dishes from around the world,
including unique foods from different Islands
of The Bahamas.

Shop for native crafts on display. Experience various
cultures through song and dance and join in colourful Bahamian Junkanoo
parades.