March 21, 2011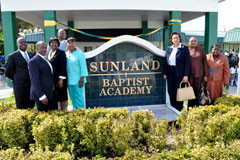 Freeport, Grand Bahama - Minister
of Education, The Honourable T. Desmond Bannister visited Grand Bahama, March
10-12th, 2011 to fulfill his pledge to visit as many of the of the
island's schools during his current term. Two hours after stepping of the plane, he visited
Sunland Baptist Academy School to officially congratulate the school's basketball
team for their performance in the Hugh Campbell Basketball Tournament. The Minister accompanied by Permanent
Secretary, Mrs. Elma Garraway was warmly welcomed by students and faculty. He told the students that they are
fortunate that they attend a school where they are receiving an education
immersed in Christian principles.
..