January 10, 2011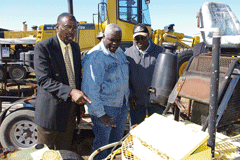 Abaco, Bahamas -

A 1,500-acre organic farm is
taking shape in North Abaco.

Situated on the former Key
and Sawyer citrus operation in the Norman's Castle area, the project is headed
by Texan entrepreneur Paul Baker, a resident of Marsh Harbour.

Local government officials,
farmers associations, co-operatives, and health conscious consumers last
weekend welcomed the move...